Don't wish it was easier, wish you were better.

Don't wish for less problems, wish for more skills

Don't wish for less challenge, wish for more wisdom.

― Jim Rohn

Failure isn't so bad if it doesn't attack the heart.

Success is all right if it doesn't go to the head.—GRANTLAND RICE
I learn more through my failures than my successes and preparing for an Information Technology Certification is one of the most exciting ways to fail forward. It is very exhilarating with its twists and turns, scenario based questions, certification and re-certification, study guides, online video tutorials (Linkedin Learning, Pluralsight, Udemy,), braindumps, online forums, blogs, official certification blog etc.
Success is a lousy teacher. It seduces smart people into thinking they can't lose. – Bill Gates
The list of materials and the time involved in preparing for these exams is like life itself, you put in your all but you are not promised anything. Failing an exam is like not figuring anything out the first time is very painful but you have to keep pushing and not take it personal.
There is no doubt in my mind that there are many ways to be a winner, but there is really only one way to be a loser and that is to fail and not look beyond the failure.—KYLE ROTE JR."
What keeps me going is my WHY? Why am I writing the exams in the first place? Would it matter in the next 5 years? Maybe? Maybe Not?
Some exams you pass on the first try, others on the third try. What matters is the zeal to achieve your goal and not get discouraged because you failed an exam.
Success is not final, failure is not fatal: it is the courage to continue that counts. – Winston Churchill
CompTIA Exams
Passed:
CS0-001 | CompTIA CySA+ Certification | June 1st 2019
SY0-501 | CompTIA Security+ Certification | May 25th 2018
220-901 | CompTIA A+ Certification | March 4th 2017
220-902 | CompTIA A+ Certification | April 8th 2017
People are training for success when they should be training for failure. Failure is far more common than success; poverty is more prevalent than wealth; and disappointment more normal than arrival.—J.WALLACE HAMILTON
Failed
N10-006 | CompTIA Network+ Certification | July 1st 2017
CV0-002 | CompTIA Cloud+ Certification } January 19 2019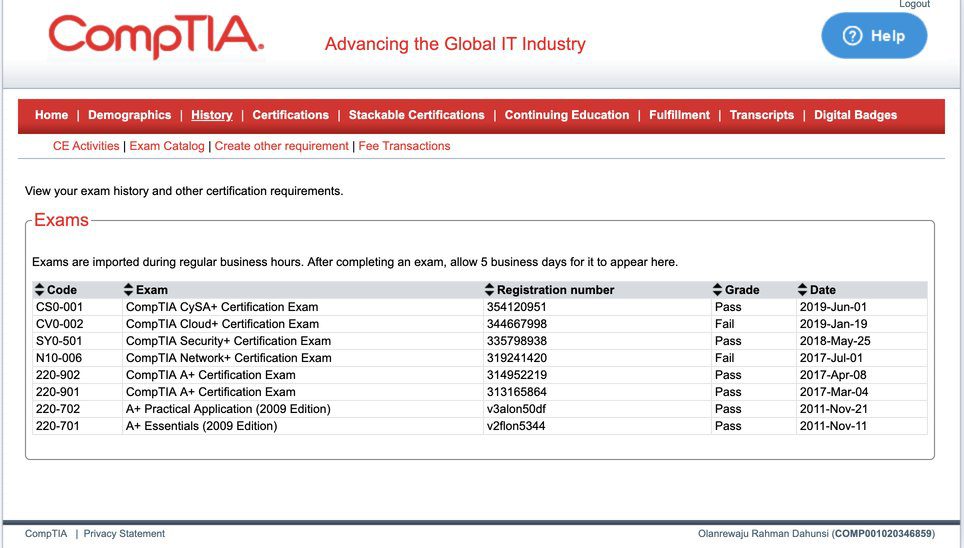 The difference between greatness and mediocrity is often how an individual views a mistake.—NELSON BOSWELL
Splunk
Passed
SPLK-1001 | Splunk Core Certified User | December 28th 2019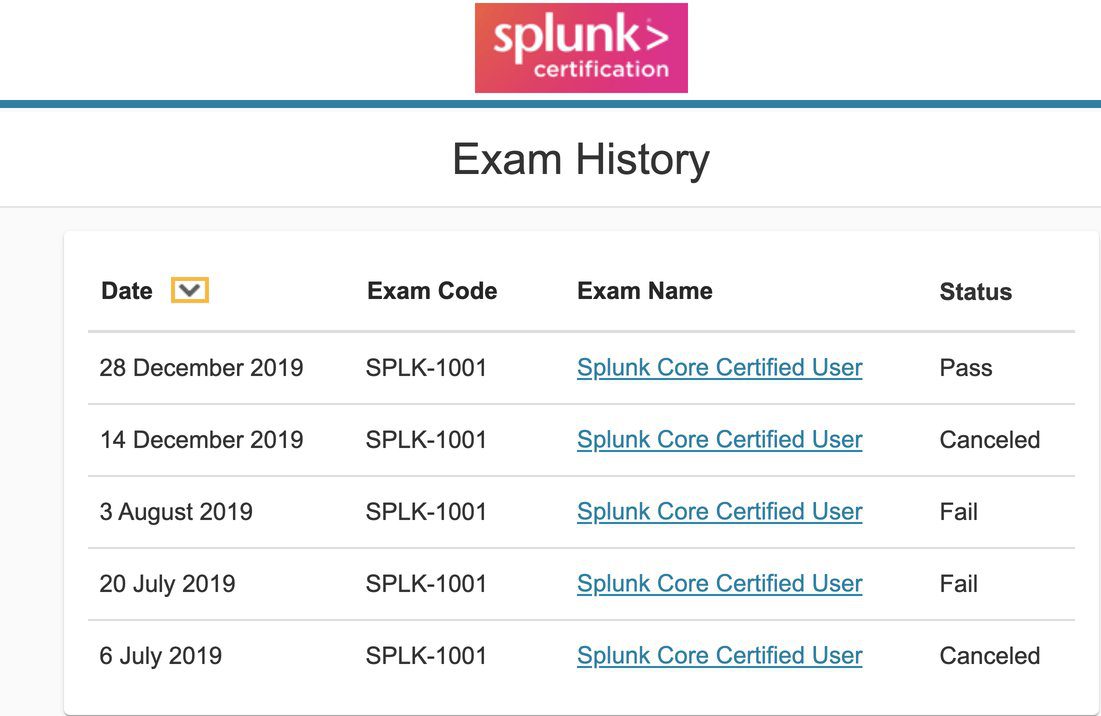 A failure is a man who blundered, but is not able to cash in on the experience.—ELBERT HUBBARD"
Failed
SPLK-1001 | Splunk Core Certified User | July 20th 2019
SPLK-1001 | Splunk Core Certified User | August 3rd 2019
Amazon Web Services (AWS)
Passed
CLF-C01 | AWS Certified Cloud Practitioner | February 24th 2020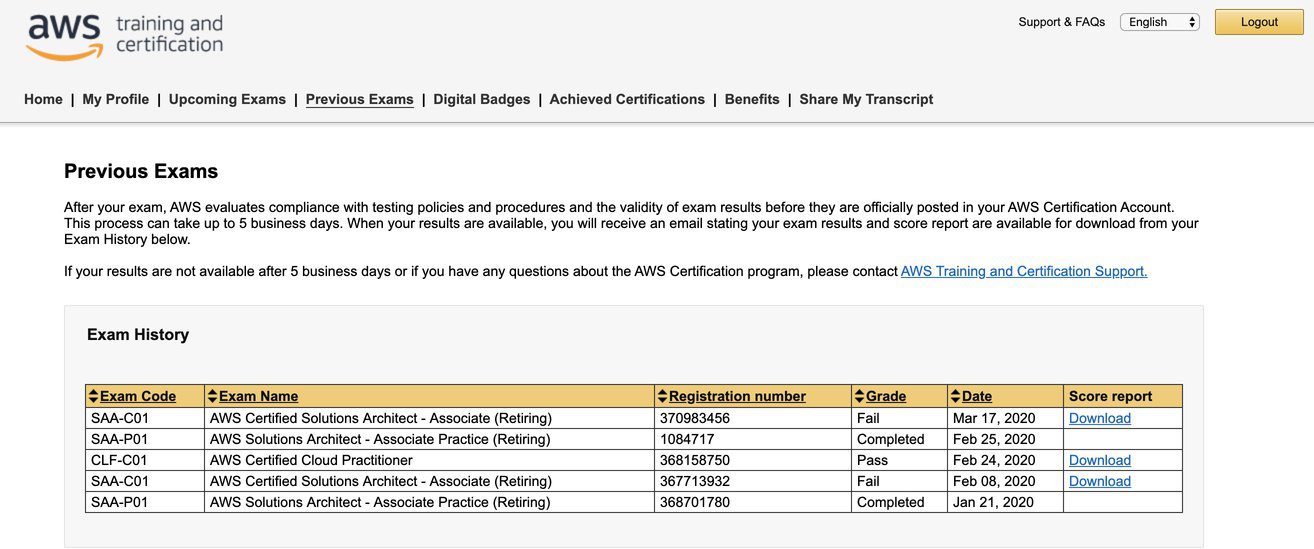 To succeed, you have to be open to problems. You have to be open to failure. And as you go up the ladder, you gain the right to get more problems.—DAVE ANDERSON
Failed
SAA-C01 | AWS Certified Solutions Architect – Associate | February 8th 2020
SAA-C01 | AWS Certified Solutions Architect – Associate | March 17th 2020
ISC2
Failed
ISC2 Systems Security Certified Practitioner | September 7th 2019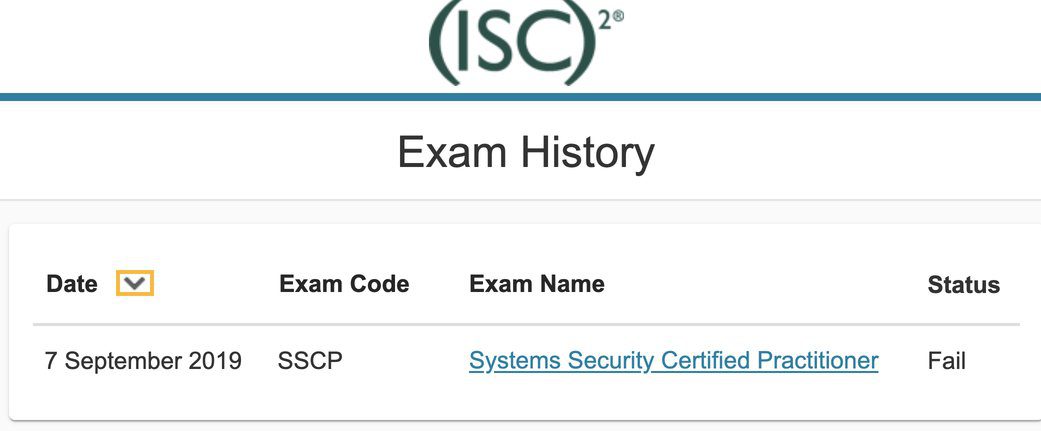 I will be writing a couple of IT certification exams in the coming months and this post is my scorecard/failure card as there would be some more stumbling on my way to the zenith. The goal is to keep pushing no matter what and not give up.
All the best in your quest to get better. Don't Settle: Live with Passion.