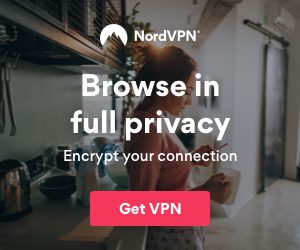 "Half of the troubles of this life can be traced to saying yes too quickly and not saying no soon enough." – Josh Billings
Anytime you say: "yes" to one request, you might have to defend it over time with 100 NOs. There is always a trade-off. If you say yes to mindless social media scrolling or picking up your phone to check WhatsApp messages every 15 minutes, you are saying NO invariably to your dream of writing a book or a blog post article. Many of us find it hard to say NO to people's requests because we do not have clear goals, values, priorities, and boundaries.
The key to saying NO is to say it graciously and with utmost sincerity. You can say something like: Thank you for the offer/invitation but due to my other commitments, I can not do this right now. Honesty is the best policy, mean what you say and say what you mean. No need to promise people what you know you are not going to do, this eventually leads to resentment and loss of trust in the relationship.
Here are some great quotes on Saying No:
"Self-respect is the root of discipline; the sense of dignity grows with the ability to say no to oneself."—ABRAHAM JOSHUA HESCHEL
"Focus is a matter of deciding what things you're not going to do."—John Carmac
"Half of the troubles of this life can be traced to saying yes too quickly and not saying no soon enough." – Josh Billings
"One key to successful relationships is learning to say no without guilt, so that you can say yes without resentment." – Bill Crawford
"Say no to everything, so you can say yes to the one thing." – Richie Norton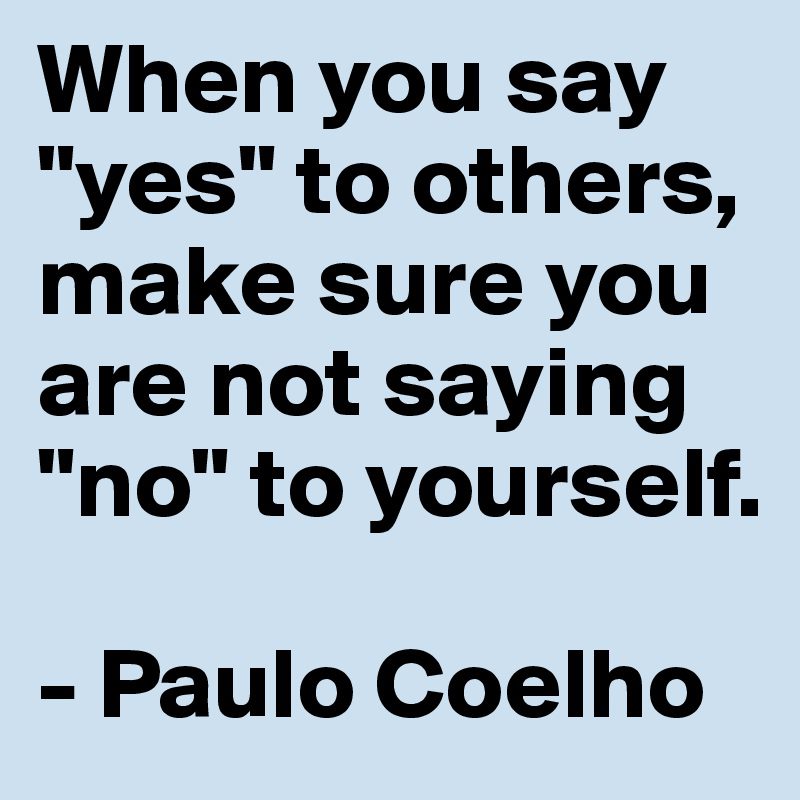 "No is a complete sentence. It does not require an explanation to follow. You can truly answer someone's request with a simple no." – Sharon E. Rainey
"Learn to say no; it will be of more use to you than to be able to read Latin." – Charles Spurgeon
"It's only by saying NO that you can concentrate on the things that are really important." – Steve Jobs
'Just saying yes because you can't bear the short-term pain of saying no is not going to help you do the work.' –Seth Godin
"Learn to say no in situations where saying no can be difficult, where it could mean getting fired. Say no anyway, because it could lead you to greater opportunities." – Samuel Dash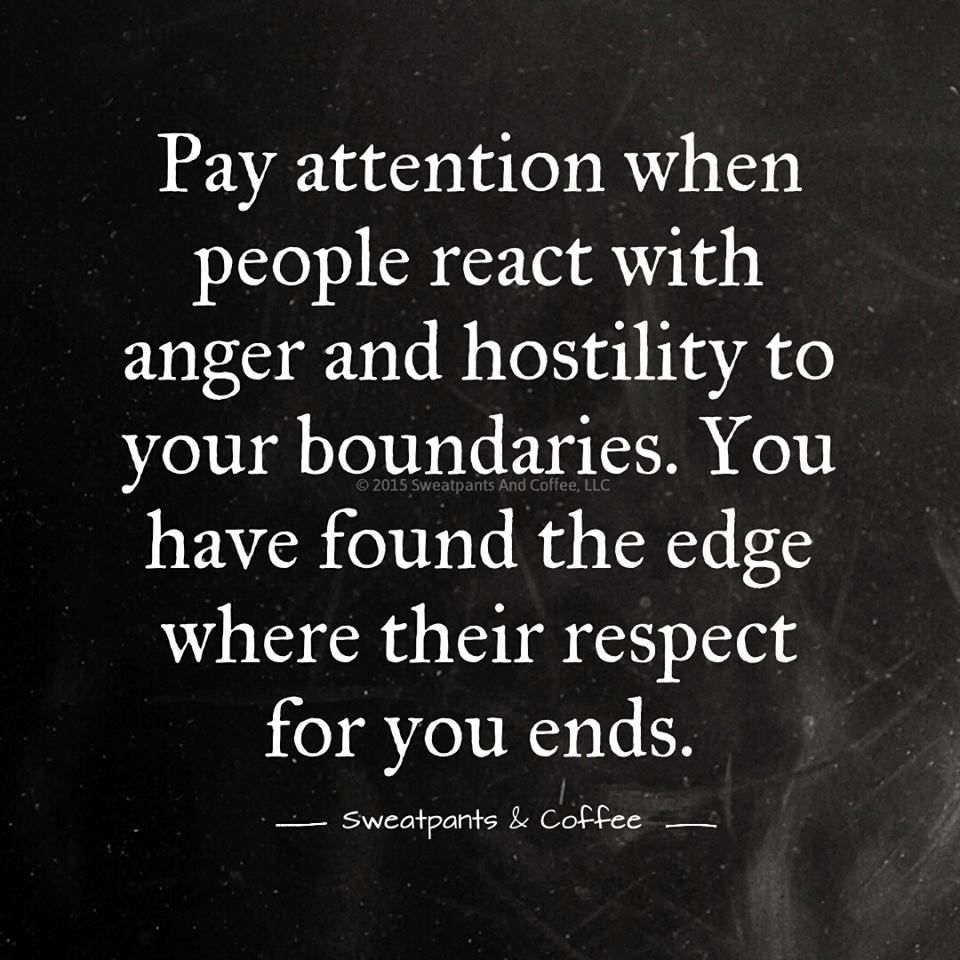 "Learning to "just say no" to emotional reactions isn't repression. Saying no means not engaging the frustration, anger, judgment, or blame. Without engagement, you won't have anything to repress." Doc Childre
"The ability to say no is a tremendous advantage for an investor." – Warren Buffett
"You can say no if that is more truthful than a resentful yes." – Judith Lasater
'It takes effort to say no when our heart and brains and guts and, most important, pride are yearning to say yes. Practice." – Cole Harmonson
" The art of leadership is saying no, not saying yes. It is very easy to say yes." – Tony Blair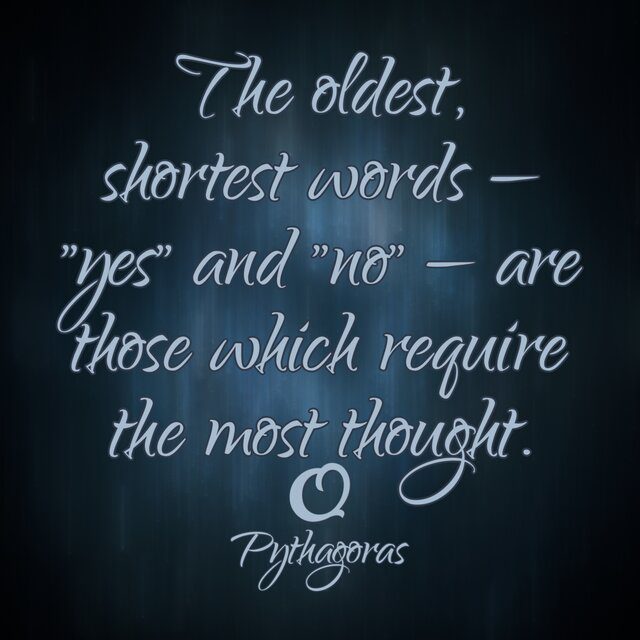 "One of the most painfully inauthentic ways we show up in our lives sometimes is saying "yes" when we mean "no," and saying "no" when we mean "hell yes." – Brené Brown
"No" is a word that must never be negotiated, because the person who chooses not to hear it is trying to control you… Declining to hear "no" is a signal that someone is either seeking control or refusing to relinquish it."- Gavin de Becker
"Part of the skill of saying no is to shut up afterward and not babble on, offering material for an argument." -Judith Martin
"Have the courage to say no. Have the courage to face the truth. Do the right thing because it is right. These are the magic keys to living your life with integrity." – W. Clement Stone
"Serenity comes from the ability to say "Yes" to existence. Courage comes from the ability to say "No" to the wrong choices made by others." – Ayn Rand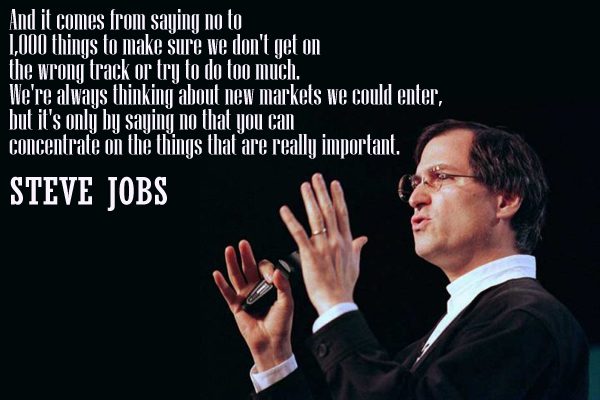 "Saying yes to happiness means learning to say no to the things and people that stress you out." – Thema Davis
"You have to decide what your highest priorities are and have the courage pleasantly, smilingly, and non-apologetically – to say "no" to other things. And the way to do that is by having a bigger yes burning inside." – Stephen Cove
"The difference between successful people and really successful people is that really successful people say no to almost everything." – Warren Buffet,
"Early on my journey I found developing the ability to say no expanded my ability to say yes and really mean it." – Susan Gregg
"When you say no to the wrong people, it opens up the space for the right people to come in." – Joe Calloway
"Information overload (on all levels) is exactly WHY you need an "ignore list". It has never been more important to be able to say "No." – Mani S. Sivasubramanian
"If something is not a "hell, YEAH!", then it's a "NO!" – James Altucher
"There are only two words that will always lead you to success. Those words are yes and no. Undoubtedly, you've mastered saying yes. So start practicing saying no. Your goals depend on it. " Jack Canfield
"Learn graceful ways of saying no and of pointing out that this pressure to do something is not in line with most people's wishes." – Judith Martin
"Choice means saying no to one thing so you can say yes to another" – Dan Millman
All the best in your quest to get better. Don't Settle: Live with Passion.